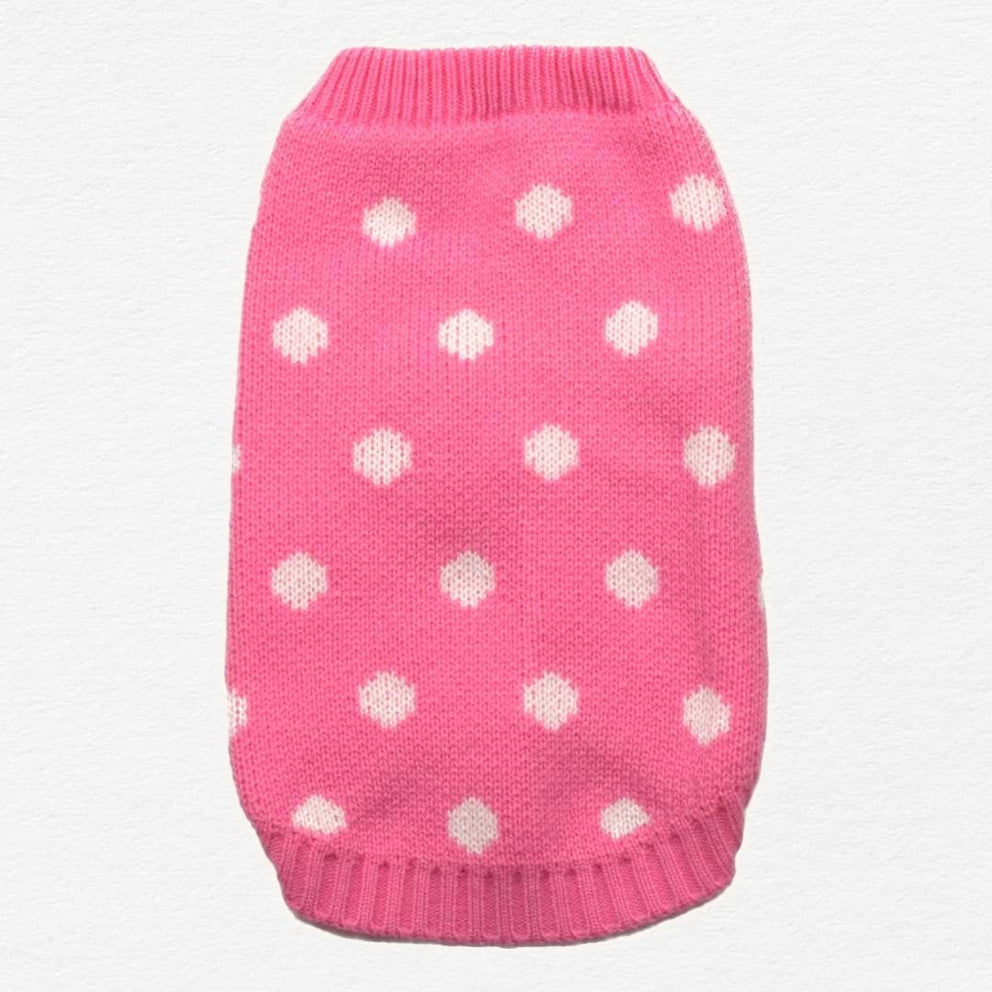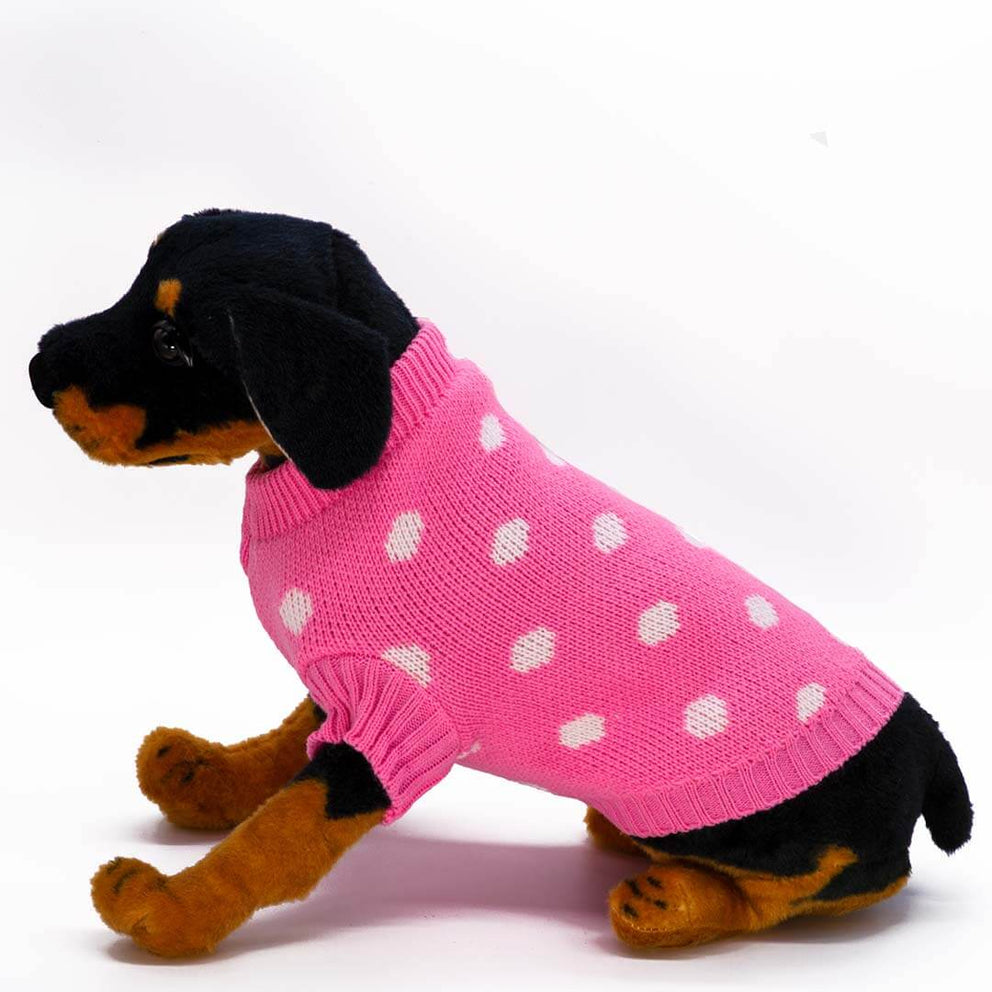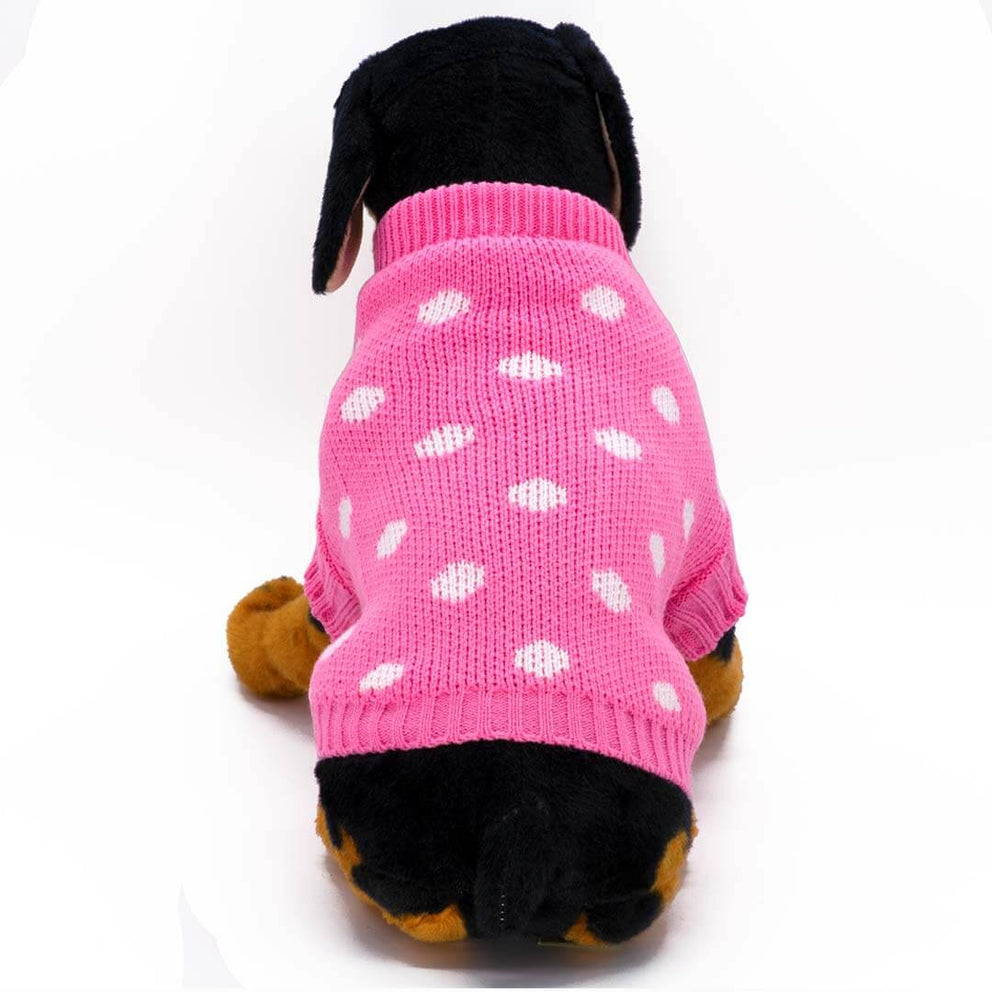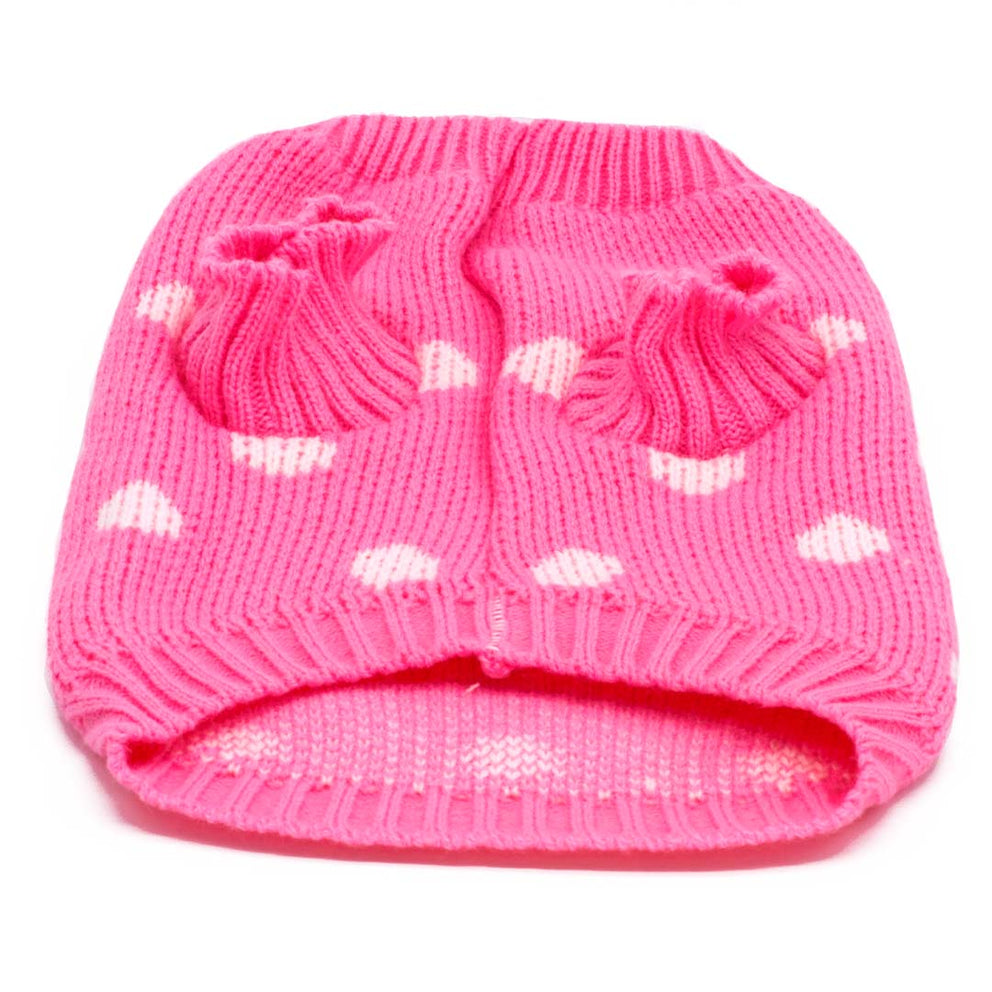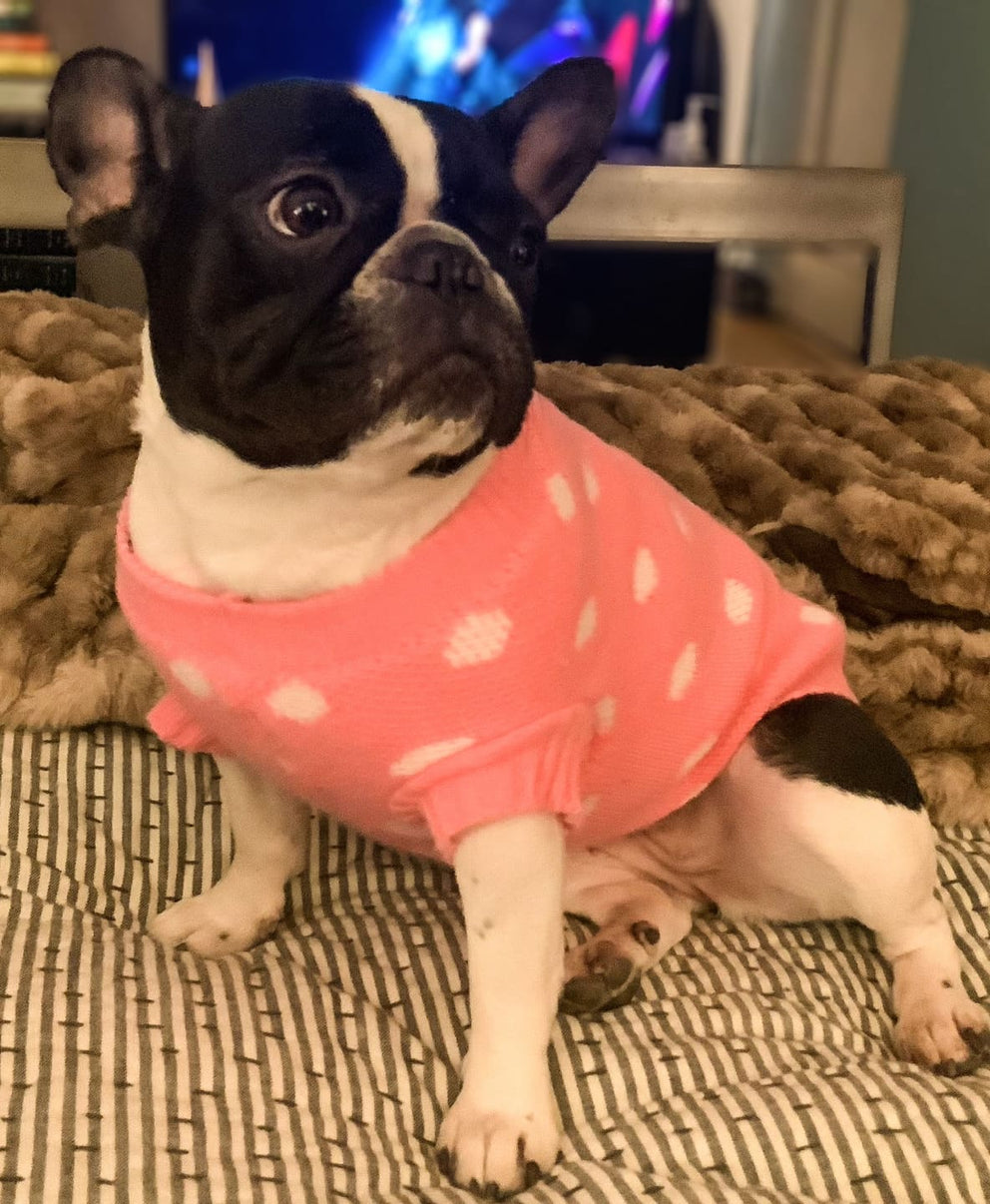 Guinevere Pink Polka Dot ...
from

$8

$28
Pink Polka Dot Dog Sweater Let your dog show off their great sense of style with this adorable dog sweater perfectly proportioned for any size pup. The knit polyester fabric offers a comfortable layer against chilly winds and cool temperatures. It is not waterproof or water resistant, however. The stretchy fabric covers both the back and front for a cozy feeling anywhere. Most importantly, it feels great on your precious pooch with no tight edges or irritating tags. Features Pink with white polka dot pattern with knitted cuffs and a crewneck collar.  They stretch easily to go over the paws, legs, and head of your furry friend with no binding or discomfort. Simply stretch the sweater, slide it on, and get ready for a walk or fun playtime in the great outdoors.  Comfortable Fit Choose the best size for your pet from 2X-Small for chihuahuas to Large for Dachshunds. Although not suitable for the largest breeds, most dogs can enjoy this warm and comfortable sweater with no problem. The knit cuffs in blue stretch easily to slip over their paws. The roomy neckline will never rub or irritate them when you slide it over their head. The loose-fitting hood rests easily over their ears and keeps them from cold breezes and nippy temperatures.   Fashion Give your pet a comfortable and cozy layer that will last through many wearing and washings. They will feel their best with the soft knit fabric, and you will get the opportunity for many cuddles and amazing photo opportunities with this adorable pink polka dot pullover. 2X-Small Chest between 10 and 13 inches (Most Important) Neck between 8 and 10 inches Back Length up to 8 inches Suitable for a Chihuahua or a Yorkshire Terrier X-Small Chest between 12 and 16 inches (Most Important) Neck between 11 and 13 inches Back Length up to 10 inches Suitable for a Maltese or Shih Tzu Small Chest between 15 and 19 inches (Most Important) Neck between 13 and 16 inches Back Length up to 12 inches Suitable for a Cavalier King Charles Spaniel or Bichon Frise Medium Chest between 18 and 23 inches (Most Important) Neck between 17 and 19 inches Back Length up to 15 inches Suitable for a Beagle or Pug Large Chest between 22 and 27 inches (Most Important) Neck between 20 and 25 inches Back Length up to 18 inches Suitable for a Cocker Spaniel or Dachshund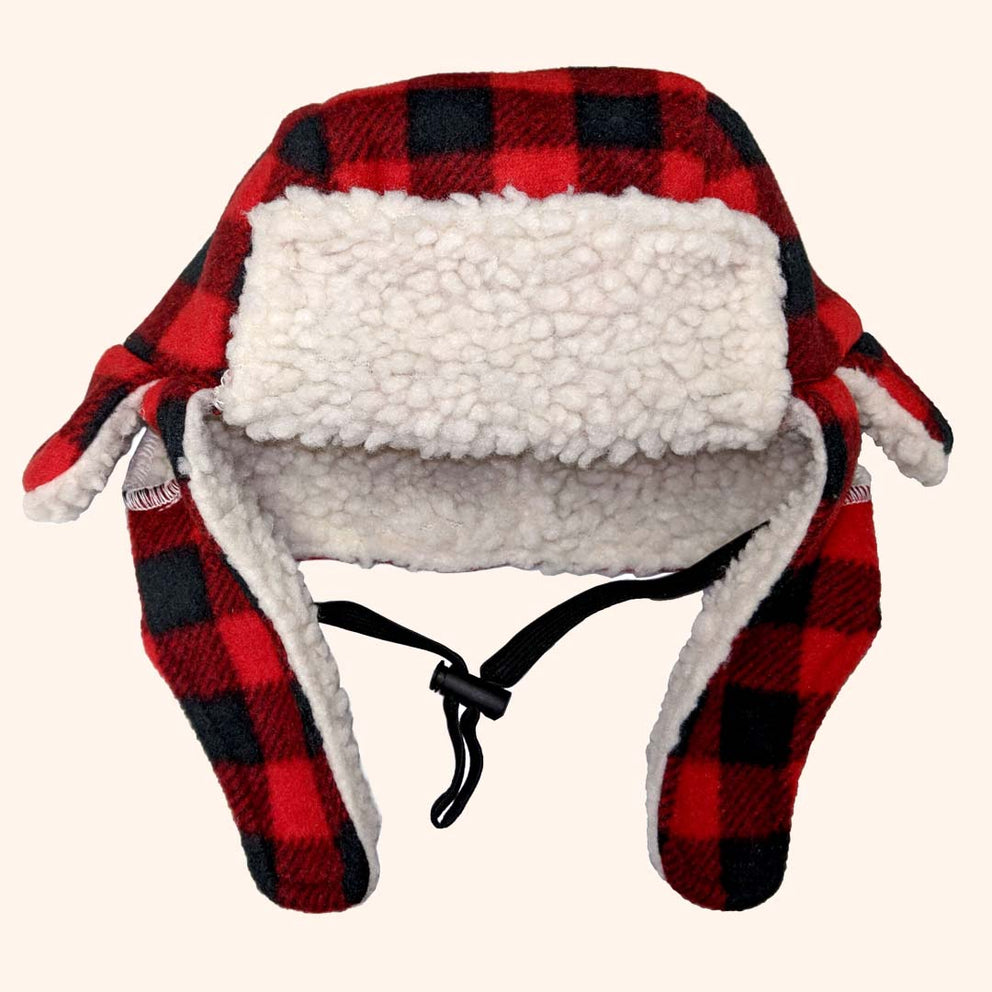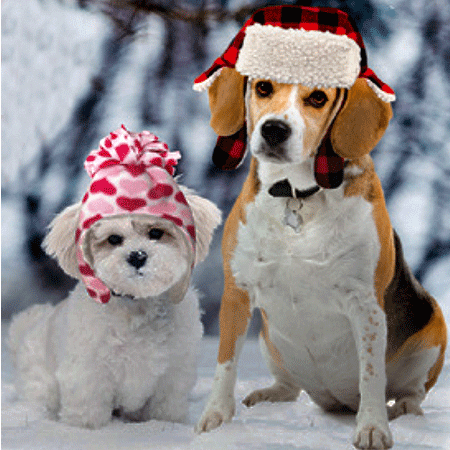 Buffalo Plaid Hat - CLEAR...
$6
You can only get the Buffalo Plaid Hat for a limited time, so get yours while you still have the chance.  Trapper hat styling in red buffalo plaid. Sherpa lining and trim for added warmth. Elastic with toggle closure for snug fit. Ear slits for comfort. 100% Polyester. Machine wash cold with like colors; Line Dry.
Exceptional Customer Service
Woman-Owned
Small business in Virginia